One of our most popular glitter colors is
rose gold
! This color is great because, it is very luxurious and glamorous. It can go with so many other colors and is a great option if you aren't a true yellow gold lover. The hints of rose also give it a very feminine feel. This color works great in all crafts, but today we want to show you how we used three different types of rose gold glitter to create a stunning ombre rose gold tumbler.
To make this tumbler we use metallic, holographic, and a chunky glitters all in rose gold for a very subtle, but stunning ombre effect. For more tips of how to create a beautiful ombre tumbler, check out how to use the
spray adhesive method here
. Or if you are looking for other fun tumbler methods we also shared this
swirl stripe tumbler
and
mixed media tumbler
.
If you are ready to get started, grab your rose gold glitters and your tumbler supplies, and we will share how to get this gorgeous varied rose gold ombre tumbler look. Don't forget to make it your own too with decals!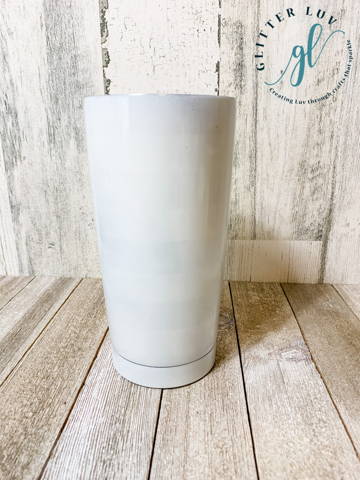 Ready to get started? Here is what we used in addition to regular glitter tumbler supplies, like a turner, epoxy, glitter, etc.
Paint if wanting a base color
Mod podge
paint brush
optional vinyl decal
The glitters we used in this tutorial are: rose gold metallic, rose gold holographic, and rose gold holographic chunky.
You can recreate this look with any other color using all the same shade, and varying types and sizes of glitter. But we just adore the rose gold!
1. Start by painting the tumbler if you want a base layer under the glitter. Allow to dry.
2. Use a paint brush to paint on Mod Podge in nice even strokes.
3. Start at the top applying the rose gold metallic. Holding the tumbler at a 45 degree angle when going into the blending area.
4. Repeat in the middle with the rose gold holographic.
5. Repeat the rose gold chunky holographic on the bottom.
6. Fill in any spots and blend as needed again holding the cup at a 45 degree angle When going from the top hold the top up and when going from the bottom for blending hold the bottom up so that the glitter can blend easily. For more tips on blending an ombre like a pro, check out this post.
7. We finished by adding two layers of epoxy and a decal.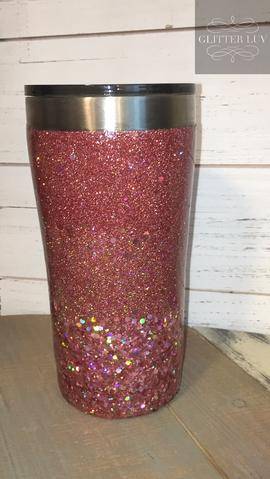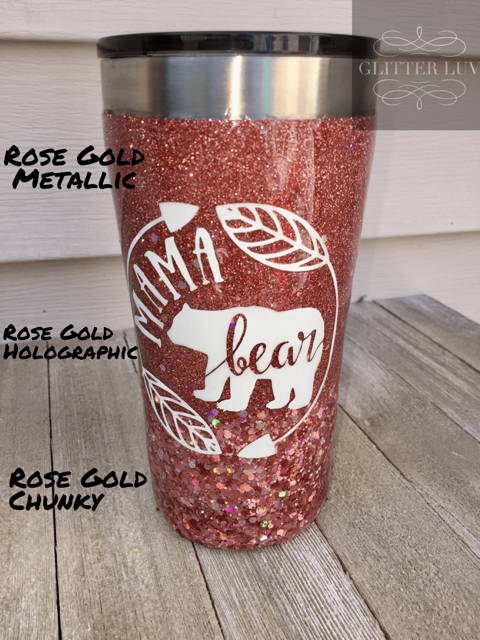 To finish the look you can add a vinyl decal, like a name, design, or whatever personalized touch you'd like to add!!! We added a cute Mama Bear vinyl decal in white. It really completes the look and gives it just what it needs to stand out.
Other ideas for vinyl decals:
-Add a name vertically
-Add a name horizontally
-Add small shapes all over, hearts, stars, etc.
-Add a large vinyl shape
-A work related decal
The sky is the limit with what you can add for a vinyl decal! Hope you enjoyed this rose gold tumbler, be sure to grab these colors because the go quick!!
Now it's your turn! Share your creations with us in our Glitter Luv Creations Facebook group. For more great glittery ideas, follow along with us on Pinterest, where we share lots of great projects.

Please pin this post for later: