St. Patrick's Day Craft Ideas
St. Patrick's Day is one of our favorites. The colors are so fun, and there are so many unique crafting possibilities! From shamrocks to lucky horseshoes to wood craft kits have fun crafting and decorating for this unique holiday! Today we are sharing a few of our favorite ways to craft for March 17th. Don't miss out on this opportunity to use all those gorgeous shades of green and gold. Plus, don't forget to use our glitters for the perfect finishing touch to your projects too.
Whether you are really into St. Patrick's Day or not, these crafts will get you in the St. Patrick's Day crafting mood. Rainbows, pots of gold, and four leaf clovers are just too cute to pass up completely. Even decorating or crafting with just one of these wood kits or crafts can add that fun festive holiday feel to your home. Take a look and get started now so you can enjoy these crafts all March long!

Before we get to crafting make sure to stock your supplies! If you are looking for our favorite St. Patrick's Day glitters you can find them highlighted here. Or to check out all of our St. Patrick's Day glitter colors check here. Grab your favorite glitters and let's get crafting.
St. Patrick's Day tiered trays are so fun and versatile. You can really make these kits your own. We have a couple of options for St. Patrick's Day and don't forget more options for other holidays and some everyday styles as well. If you really want to amp up these kits use Mod Podge to add glitter accents. Mix and match you favorite paint colors and stains to create your own unique and individual style with our kits.


Interchangeable Ladder Decor
Have you seen these leaning ladders that you can swap out for holidays and everyday? The kits come with four different inserts, so you can switch it up throughout the holiday or each year. Grab a kit, host a craft night, and then paint and decorate them in your favorite green hues. Check out a full tutorial and see the interchangeable leaning ladders in action.
Add glitter or other embellishments to finish off the look. TIP: If adding glitter, seal it with a coat of mod podge to avoid glitter flaking.
If you want to dress up a door, mantel, or wall, these wall hanger kits are perfect. Two different leprechaun themes so you can match your home decor style. For these ones, paint each piece and then use wood glue to assemble the signs.
Resin Earrings and Keychains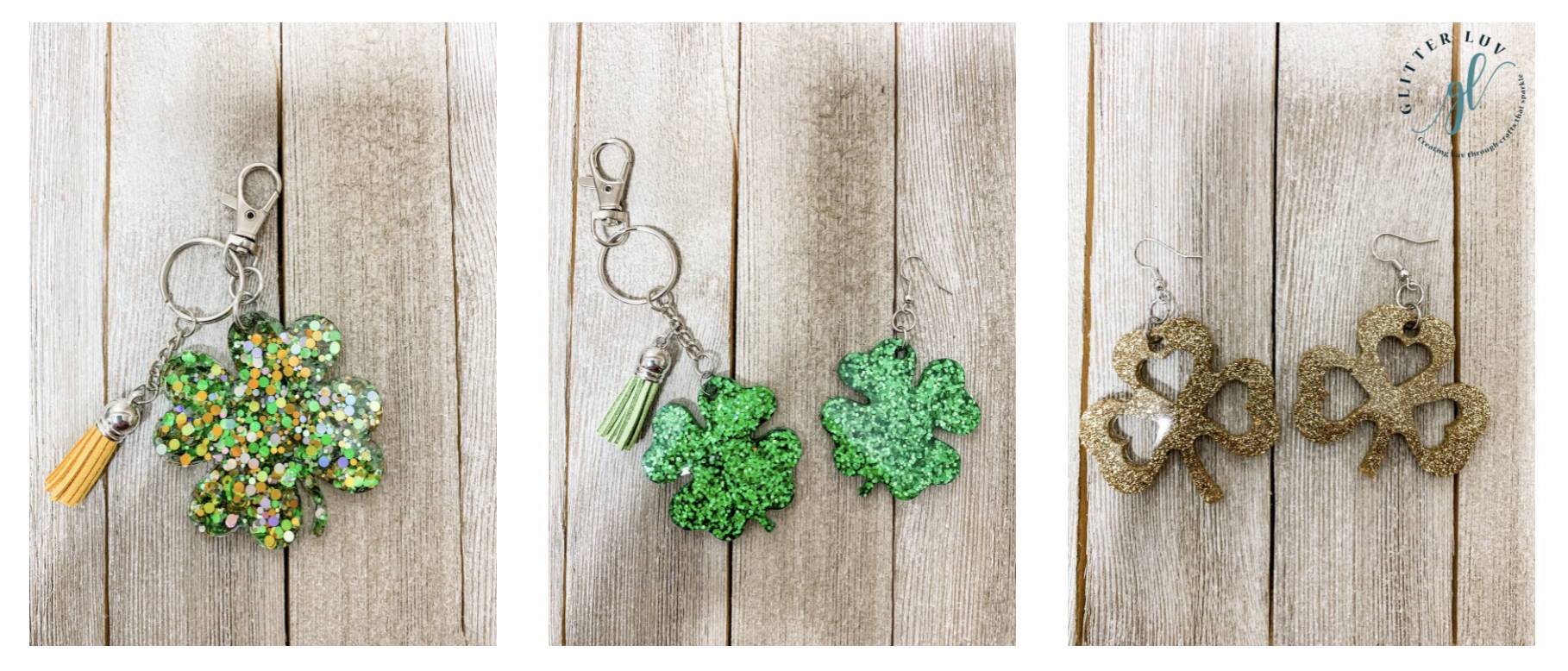 We have a shamrock molds for keychains, charms, earrings, basically whatever you can think of to use these gorgeous resin art pieces. We have a complete tutorial to make these pieces here. I love how using different glitter colors, sizes, and mixes can really change up the look of these resin pieces. Shop the molds below:
Have fun creating with these St. Patrick's Day crafts and don't forget to wear green on March 17th.
Now it's your turn! Share your creations with us in our Glitter Luv Creations Facebook group. For more great glittery ideas, follow along with us on Pinterest, where we share lots of great projects.