How to make Glitter Mason Jar Lanterns
How to make your own glitter mason jar lanterns and how to use them.
Summer time is here! It is perfect time to add in some glitter accents to your decor indoors and out. Mason jar lanterns are a fun craft to take camping, light up a garden path, or picnic table. We love when you can make something cute AND useful. There are so many ways to use these lanterns and even more ways to customize them. From stripes to solids, to shape cut outs, you can create whatever you like best.
Imagine all of the fun times spent outdoors in the evenings where these lanterns can be used. I am thinking of nights by the fire making s'mores. Keep these lanterns on the picnic table to light the supplies. Or while camping, play games using these lanterns to add some extra light. Or take on the go if you are heading away walking around the campsite at night.
Lastly, these are a great summer light fixture idea in the yard. Add them to paths, flower gardens, or as hanging lights on a patio. These glitter lanterns really add extra sparkle and ambience to a patio or porch! Let's do this!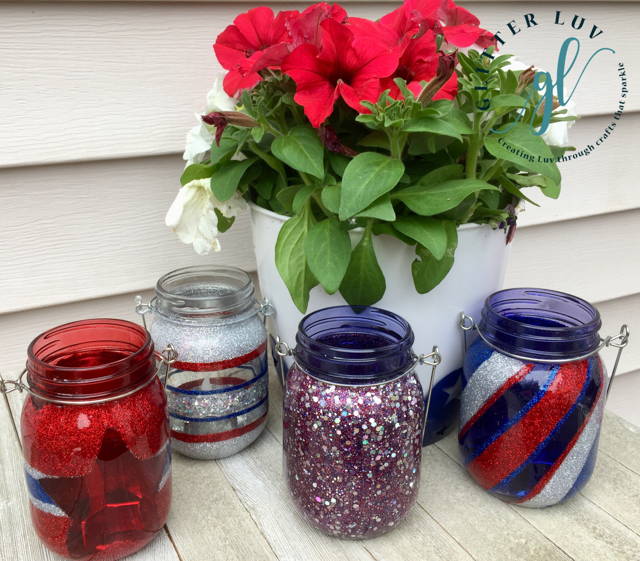 Ready to get started? Here is what we used in addition to regular glitter tumbler supplies, like a turner, epoxy, glitter, etc.
Mason jars (with or without wire hangers)
glitter
painter tape
mod podge, sealer, or epoxy for sealing
wire (for making handles if desired)
tea lights
We used some of the glitters in our Independence Glitter back below to make these glitter lanterns.
Let's make some fun lanterns using any mason or glass jar.
1. Start by deciding your glitter colors and patterns.
2. Clean and dry off the jars completely.
3. Tape off an area and using a paintbrush add a thin layer of mod podge or another glue to the area to glitter.
4. Sprinkle with glitter and let dry.
5. Repeat the process with each area or color.
6. Seal with a sealer, mod podge, or epoxy. Use epoxy for longer term outdoor use.
7. If a wire handle is desired, run wire around the top of the mason jar and then create a handle with another piece of wire using pliers to bend the wire and create the handle and close up ends.
Tips: Use chunky glitter or mixes for a varied solid look. Mix and match fine and chunky glitter in stripes. Add glitter shapes for a unique finishing touch.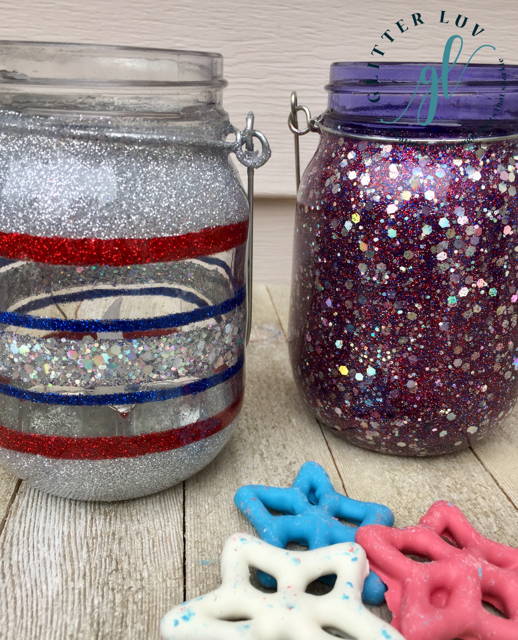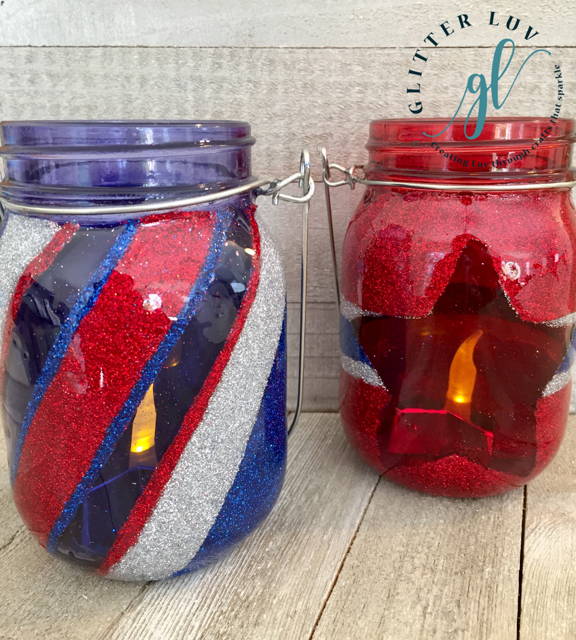 Insert the tea lights and display!
We used them on garden stakes when camping, to create a path.
Another option is to hang the lanterns anywhere you can find a hook.
Or display on a table as a centerpiece or to light up a picnic table while camping.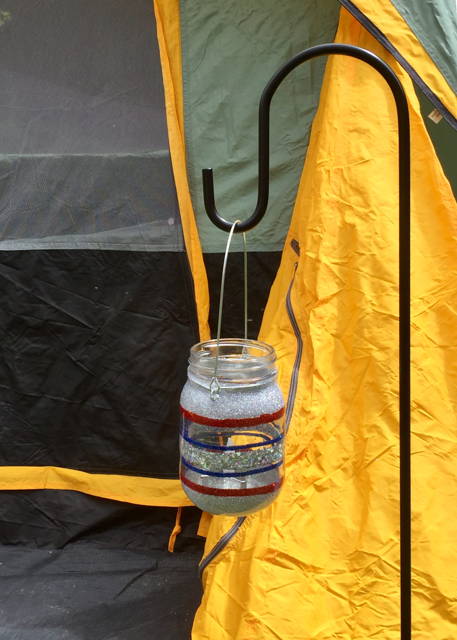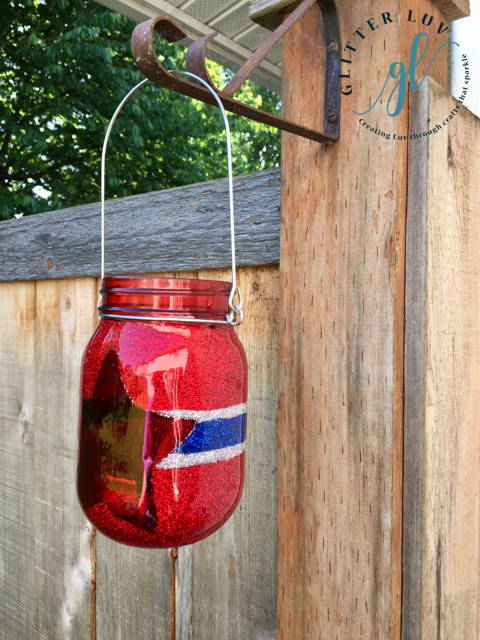 Now it's your turn! Share your creations with us in our Glitter Luv Creations Facebook group. For more great glittery ideas, follow along with us on Pinterest, where we share lots of great projects.

Please pin this post for later: