How to create ombre glittered trees
We love Christmas decor, but we also love having a few items that can transition from Christmas to winter decor. They can continue on the magic of holiday decor without being overly festive. Today's craft is one of those perfect pieces that can be used to transition your Christmas holiday decor into winter decor. This is perfect timing because Christmas is this week!
Start with some wooden tree cutouts. They can be any size and you can get creative with the colors. We went traditional with a green tree and brown trunk, but go for an even more wintery look by painting the trees a white, gray, or light blue. Glitter colors can also change up the look of these trees. Or even paint the trees green and add a dusting of snow to the trees. So many combos and ways to create your own customized trees.
Then adding an ombre effect using a chunky or fin glitter really adds an extra layer of depth that we love! We hope you take time to enjoy family, maybe craft a little, and have a very Merry Christmas this week. Let's get started with how to create ombre glittered Christmas trees. Gather your supplies and let's craft together.
There are only a few things needed for these gorgeous trees! Let's start with the basics.
1. wood tree cut outs
2. glitter
3. paint
4. sealer of choice
5. spray adhesive
6. Mod Podge
7. paint brushes
Once you have gathered your supplies, it is time to begin.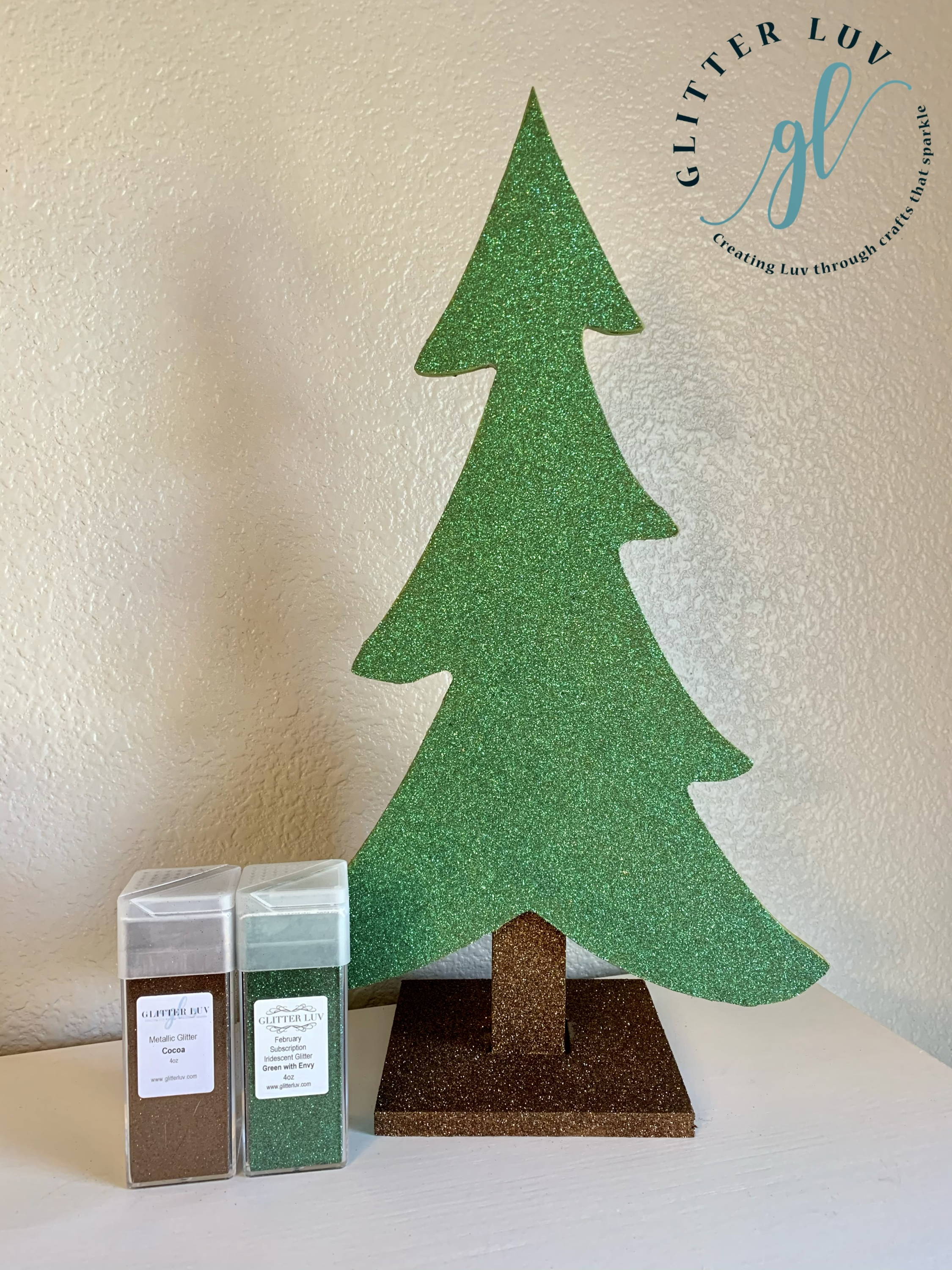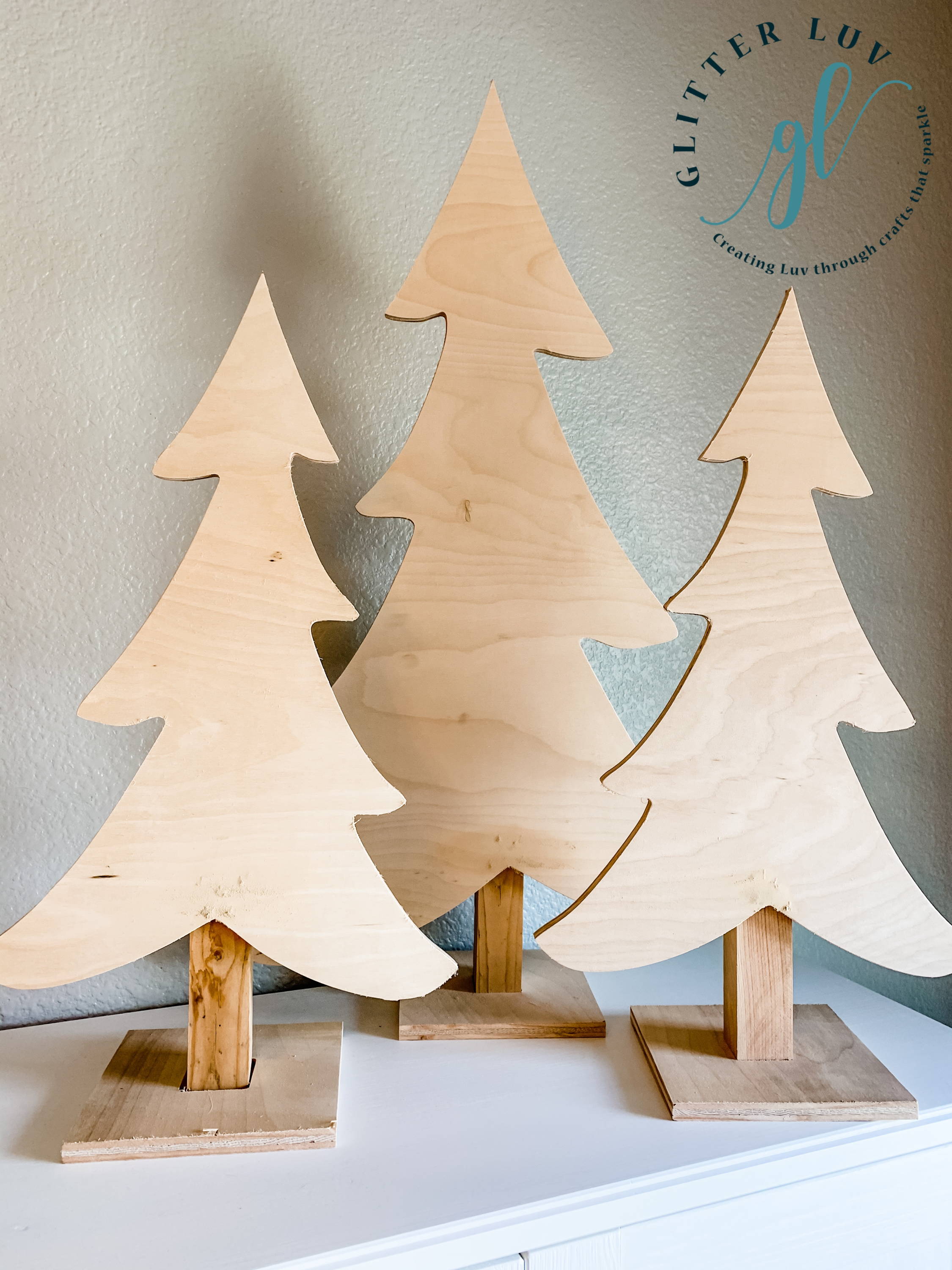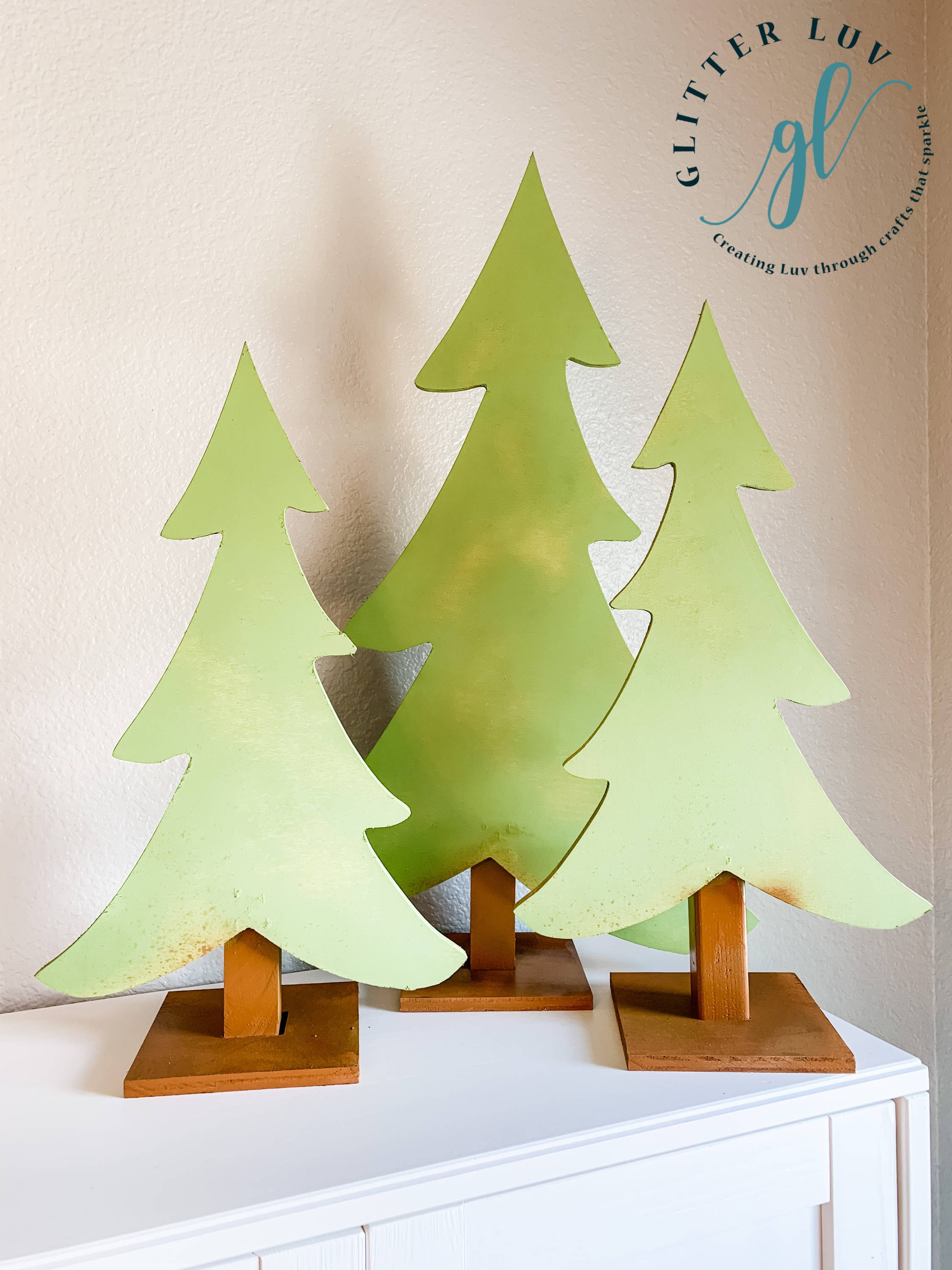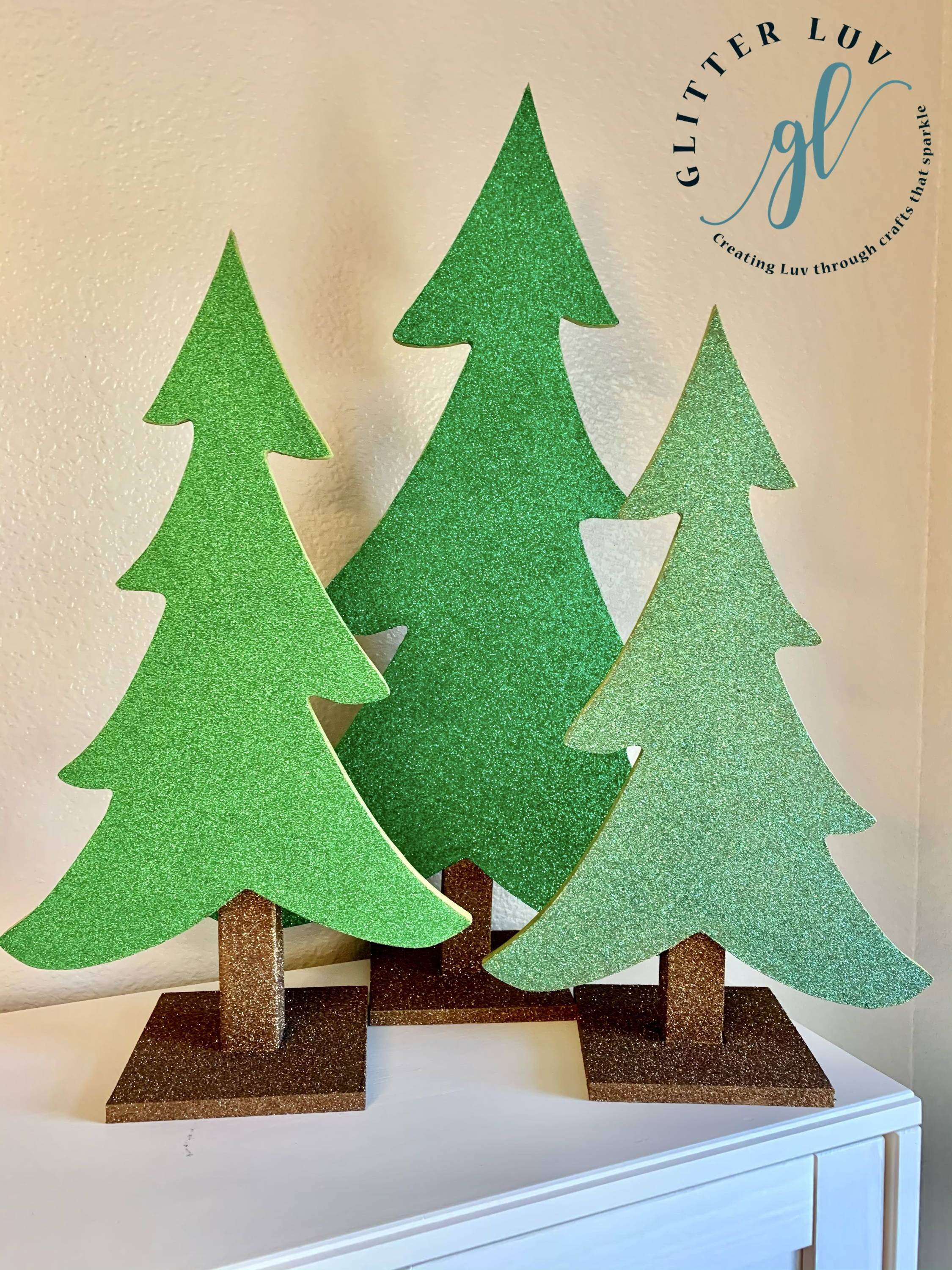 Simple steps to creating glittered woodland trees:
1. Start by painting the wood cutouts. Allow to dry. We painted the trees green and the trunks and bases brown.
2. Add a layer of Mod Podge and then glitter (we used three different shades of green). Allow to dry. Apply glitter to the base in the same method. Repeat as necessary.
3. Use spray adhesive to add the ombre using a chunky or fine glitter. Going thicker at the top and lighter toward the bottom. We used Polar Bear, Let it Snow, and Pint of Cheer for our glitter ombres.
After dried seal as desired.
You can stop here with these gorgeous trees, but wait, we have more ideas on how to jazz them up!
More ideas:
Add snow patches as well as ombre effect
Glue on mini ornaments or wood cutouts
Decorate with ribbon for a garland look
Create an advent calendar
Add vinyl cutouts (will need to seal before adding)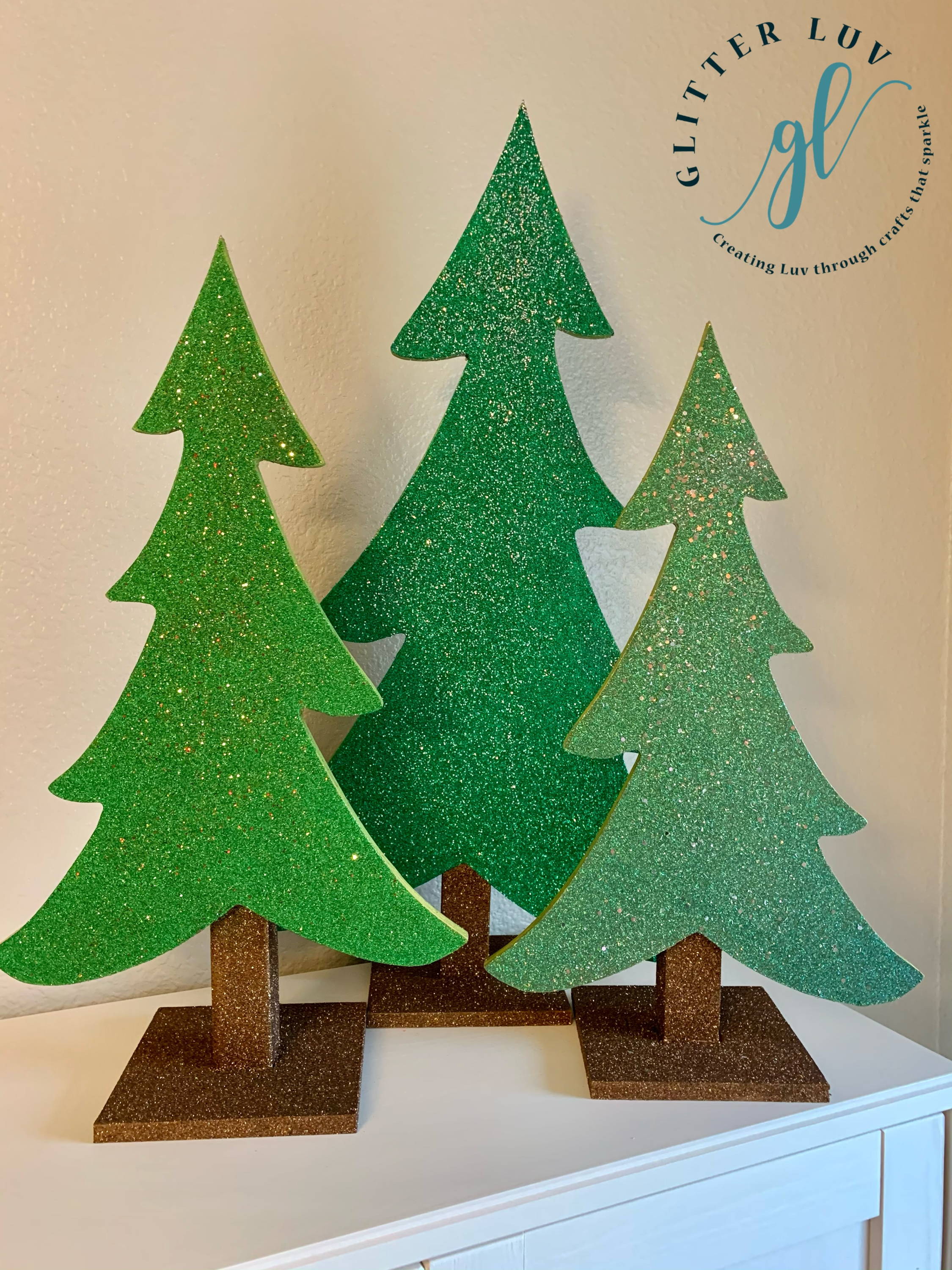 How would you decorate them???
Now it's your turn! Share your creations with us in our Glitter Luv Creations Facebook group. For more great glittery ideas, follow along with us on Pinterest, where we share lots of great projects.

Please pin this post for future reference: