Today we are featuring another great craft using our Easter glitters. These curated hand picked colors are perfect for mixing and matching when crafting for Easter. Today we are making adorable bunny and egg glittered keychains. These keychains don't have to be spring themed. Grab any blanks you like and then glitter them up!! Add names, vinyl, tassels, and more.
These keychains come together so fast using UV resin. The perfect craft project for an afternoon, or a quick weekend craft. Plan ahead though, there are a few supplies you will need like UV resin, blanks, a UV light, and keychain hardware. Once you have the supplies though, these will go quick and they turn out so gorgeous. The perfect handmade gift.
Whip these up for Easter baskets or gift before Easter (if gifting an Easter themed keychain)! Use them as keychains obviously. Or not so obviously as a bag charm, clip on to a zipper, or add a name and use as a gift tag or place card! Grab your favorite glitters and let's have fun.
You will need a few basic supplies to get started:
1. Bunny and/or egg blanks (really any shape will work)
2. Glitter
3. UV Resin
4. UV light
5. Keychain hardware and embellishments
6. Sandpaper
7. Alcohol and coffee filters
Let's get crafting.
Watch the full video tutorial for this craft on our Glitter Luv Creations Facebook page here.
1. Remove back side brown backing from egg or bunny. Rough up the back side with sand paper and then clean off with alcohol on a coffee filter.
2. Wearing gloves apply a thin layer of resin to the back side and smooth over the surface using your finger. Sprinkle with glitter. Pat down glitter into resin to ensure full coverage. Cure under the UV light for 1 minute.
3. Add another layer of resin on top of the glitter and smooth around the surface with finger. Sprinkle with glitter again and cure under UV light for another minute.
4. Clean up edges with an Xacto Knife. Check to make sure key ring hole is not sealed shut.
5. Add a layer of resin and smooth it over the surface with a brush for a nice clean appearance. Use a heat gun or torch to see if any areas are missing resin. Fill in as needed. Cure under UV light for one minute.
6. Sand if needed. Wipe with alcohol again. Add another layer of resin as needed. Cure for one minute.
7. Flip over to the other side and cure under UV light for one minute.
8. Remove backing from the front side. Rough up the front a little bit and wipe with alcohol wipe. Don't lose the shine, but add enough scratching to allow resin and/or vinyl decals to stick to the blank.
9. Apply vinyl if desired.
10. Brush on a layer of resin and use a heat gun or torch to see if any spots need more resin. Cure under UV light for one minute.
11. Add hardware.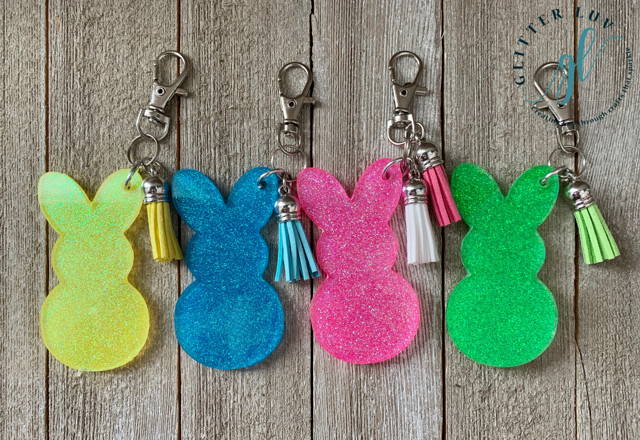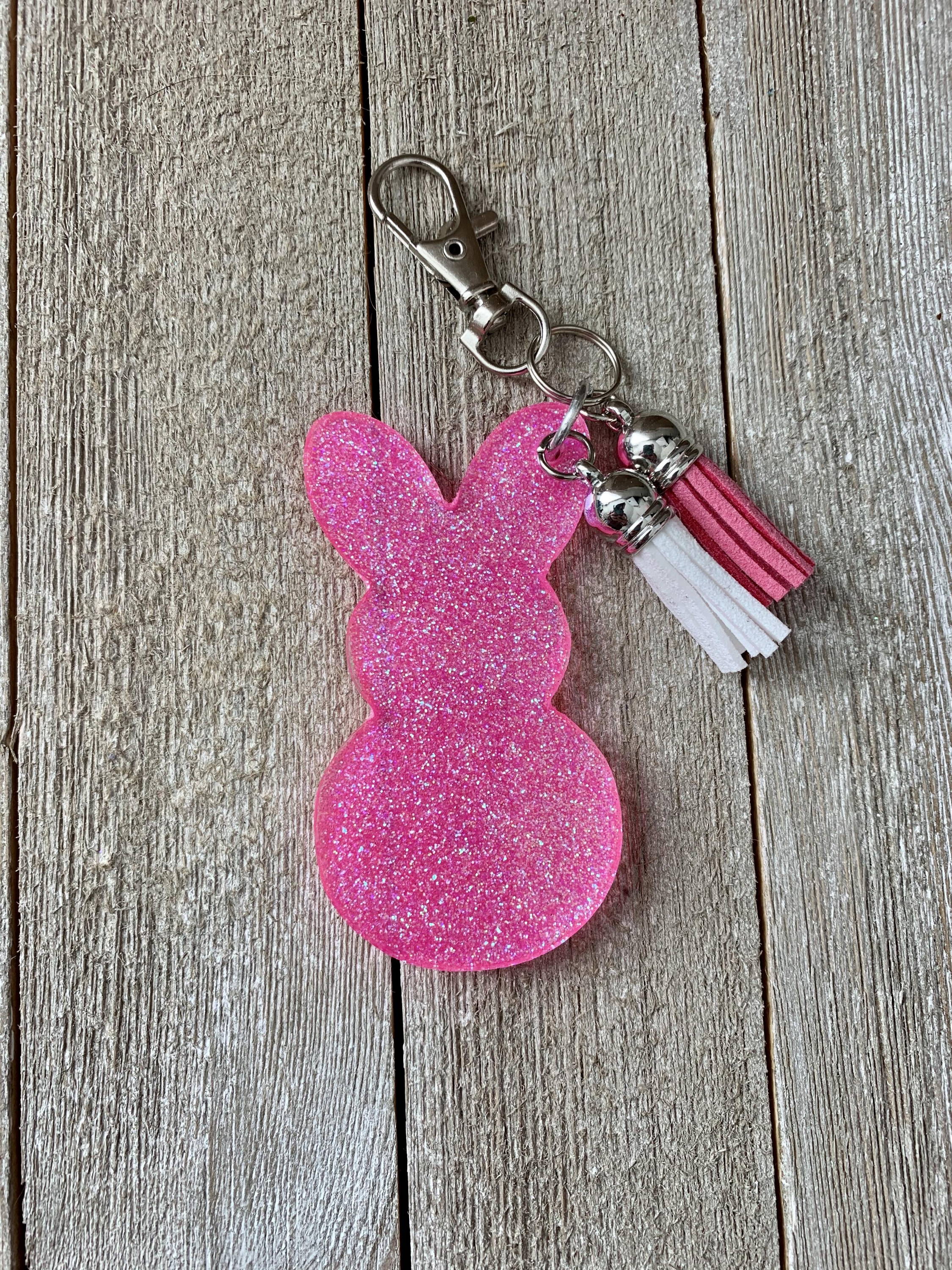 Finish off the look of these keychains with vinyl accents, faces on the peep bunny shapes or a pattern like our mermaid scales.
Add tassels, pom poms, charms, or whatever to finish off your keychain with that extra flair.
They turned out so adorable. One of our favorite projects for sure!!!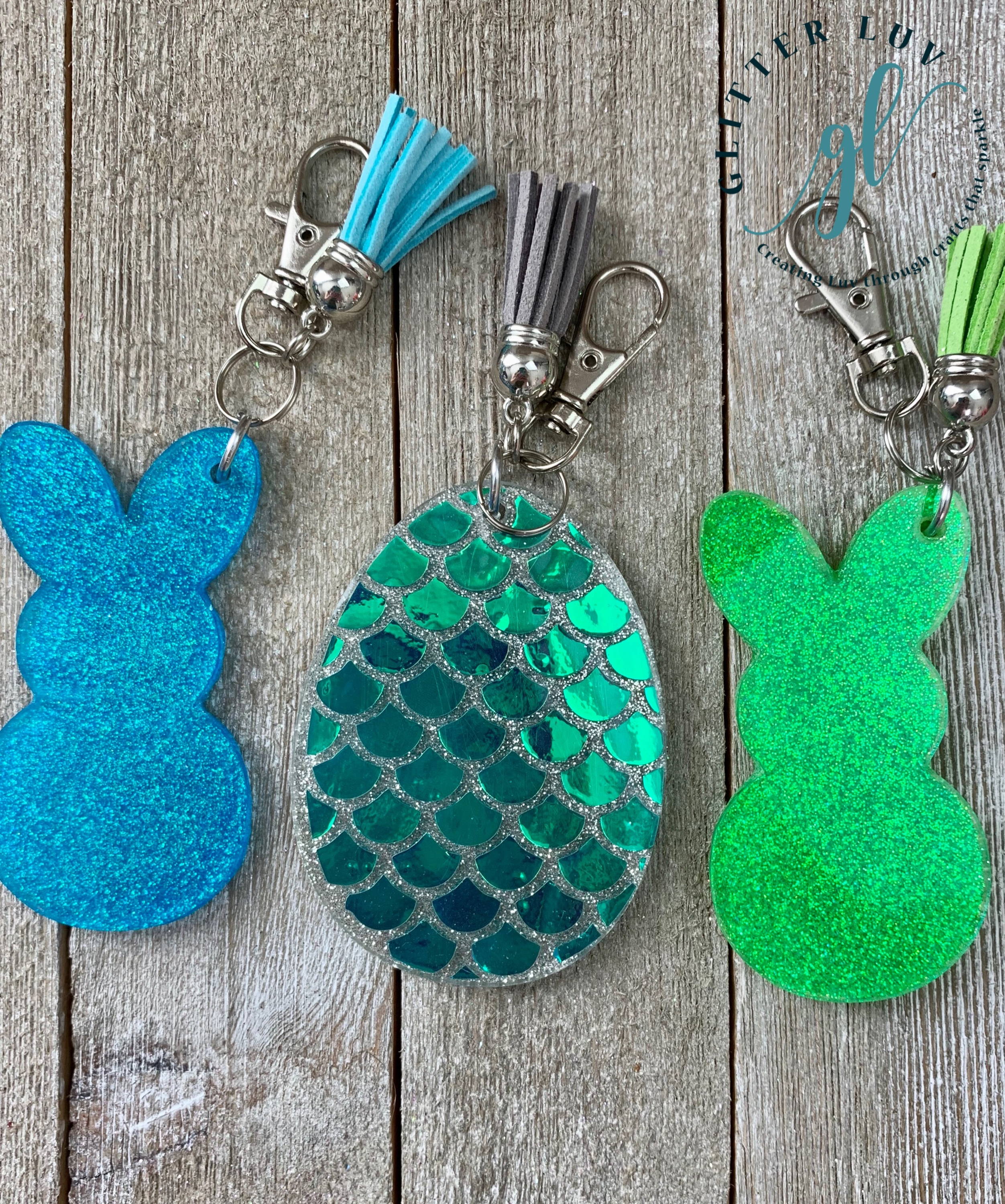 Now it's your turn! Share your creations with us in our Glitter Luv Creations Facebook group. For more great glittery ideas, follow along with us on Pinterest, where we share lots of great projects.