Creating a Custom Patriotic Tiered Tray
We have some exciting news! We now have DIY wood kits in our shop! These are great kits that work well with our glitters. Add your own flair with paint or stain colors and styles that match your preferences. Let's celebrate this new item by showcasing how to decorate the kit pieces featured in the patriotic tiered tray wood kit.
If you haven't seen the tiered tray trend yet, they are so adorable and completely customizable. Add them as a centerpiece to your dining table, kitchen island, or even an entryway table. The trays come in a variety of colors and materials like wood, metal or a mix of both. Some have two tiers, others have more. They are fun to change and decorate differently for each holiday. The fourth of July is less than a month away. Snag your kit and decorate it to display for the fourth. Grab a few kits and have a craft night with your family or friends.
Customize your kit with colors that match your style. If you love bright vibrant colors, use those. If you want more muted tones, use those instead. And then get painting or staining. After the paint dries, it is time to have some fun and add in the glitter! Go for small accents of glitter. Or go for larger glittered areas for lots of sparkle. Take a look at our finished kit to get ideas.
Grab the supplies you need:
1. Glitter
2. Mod Podge
3. Paint Brushes
4. Craft glue
5. Patriotic Wood Tiered Tray Kit
6. Paint
If you grab the Ultimate kit option it will include paint, glitter, glue, and a paint brush!
Let's get crafting glitter picture frames.
1. Pick out your paints and glitters. Plan out what colors will go where.
2. Paint base colors and allow to dry, repeating as necessary for layers.

3. Add glitter. Paint on a thin layer of Mod Podge to the area you desire to glitter.
4. Sprinkle on glitter.
5. Allow to completely dry.
6. Repeat with other sections as needed.
7. After completely dried, paint another thin layer of mod podge to seal in the glitter and avoid glitter shedding.
8. Glue together any pieces that come apart for painting. This is super easy because the pieces are scored for easy placement. Allow Glue to dry.
9. Display! Arrange on your tray, mantle, or wherever you can find a cute nook for the pieces in this awesome kit.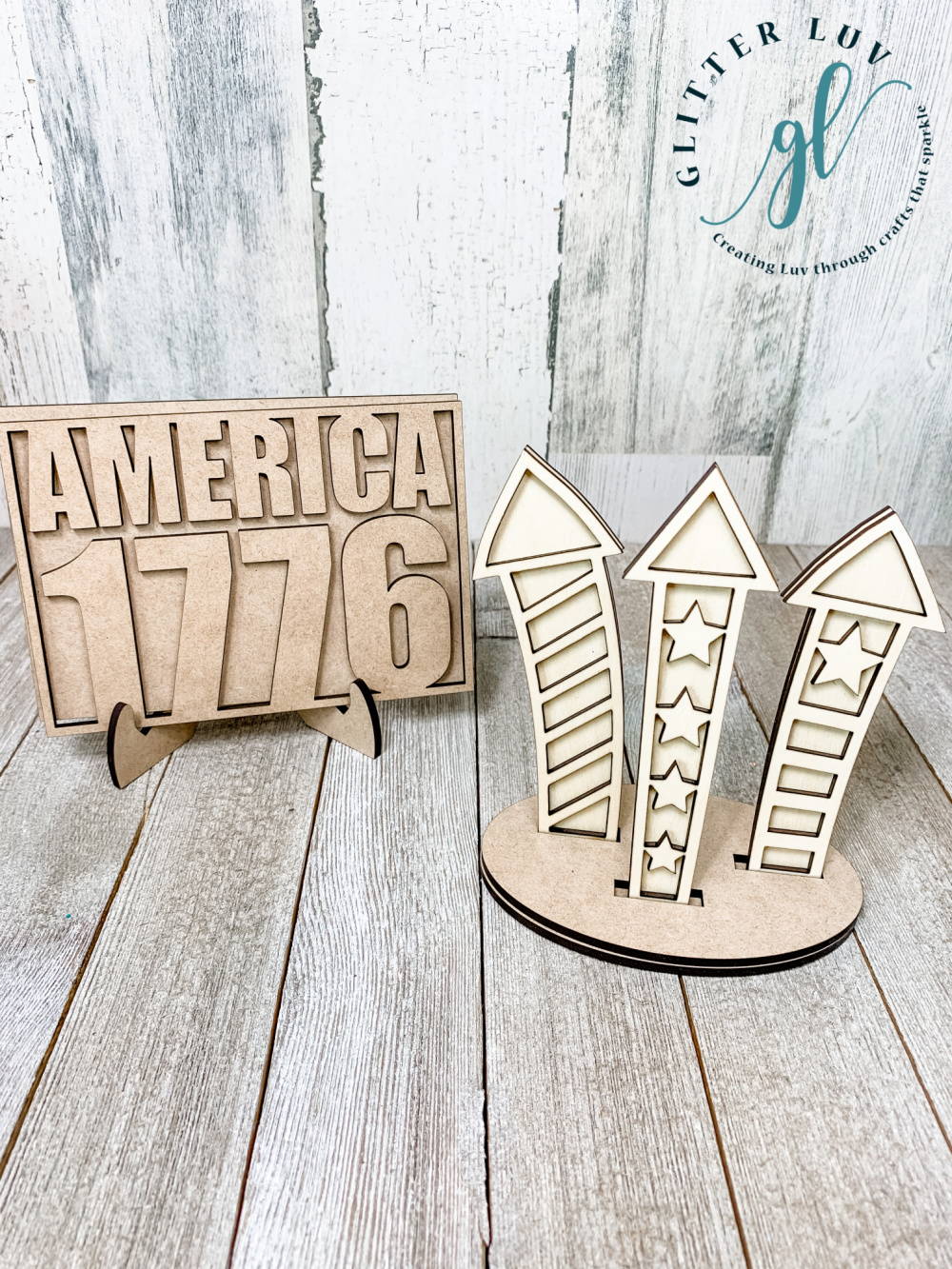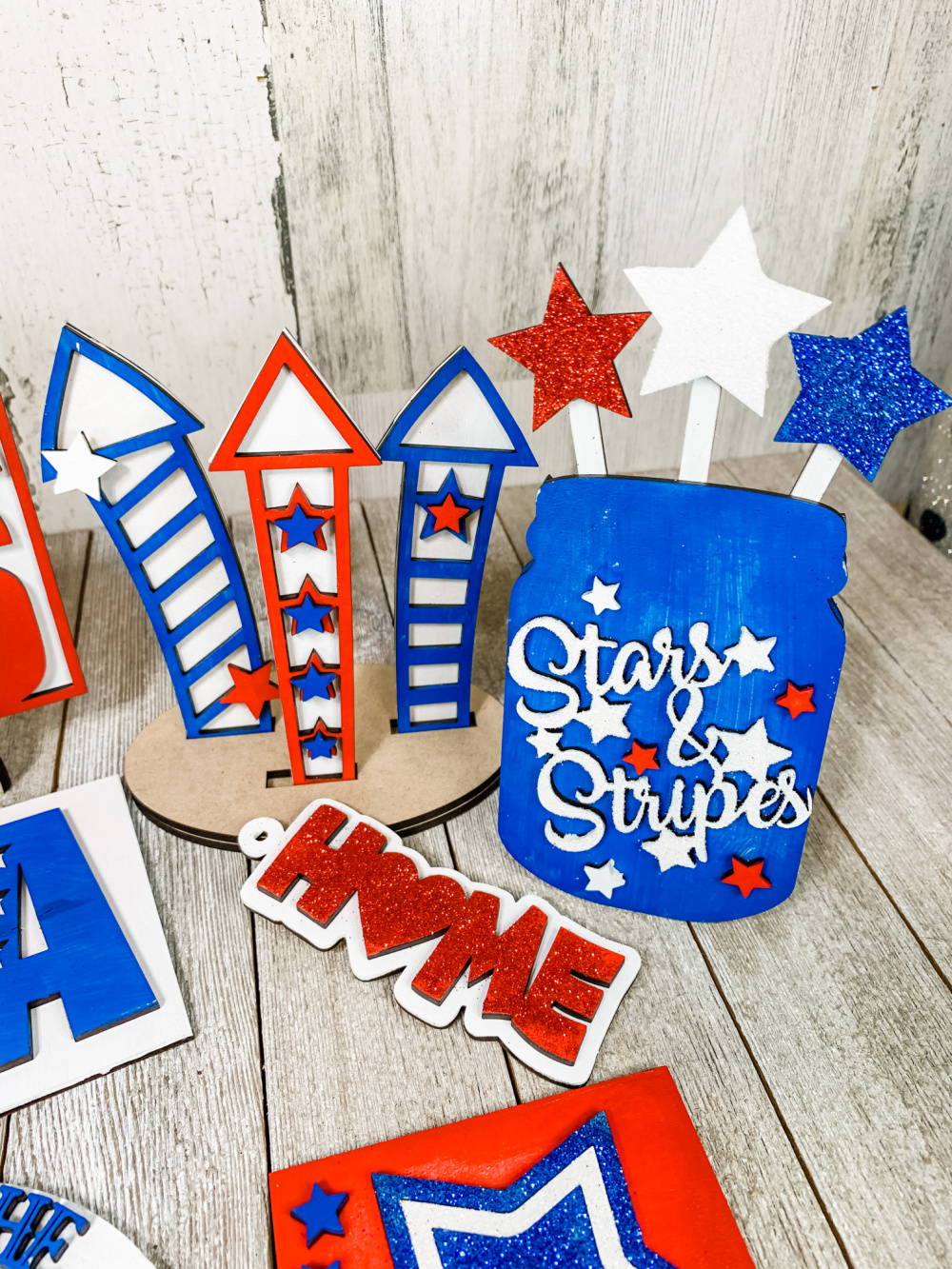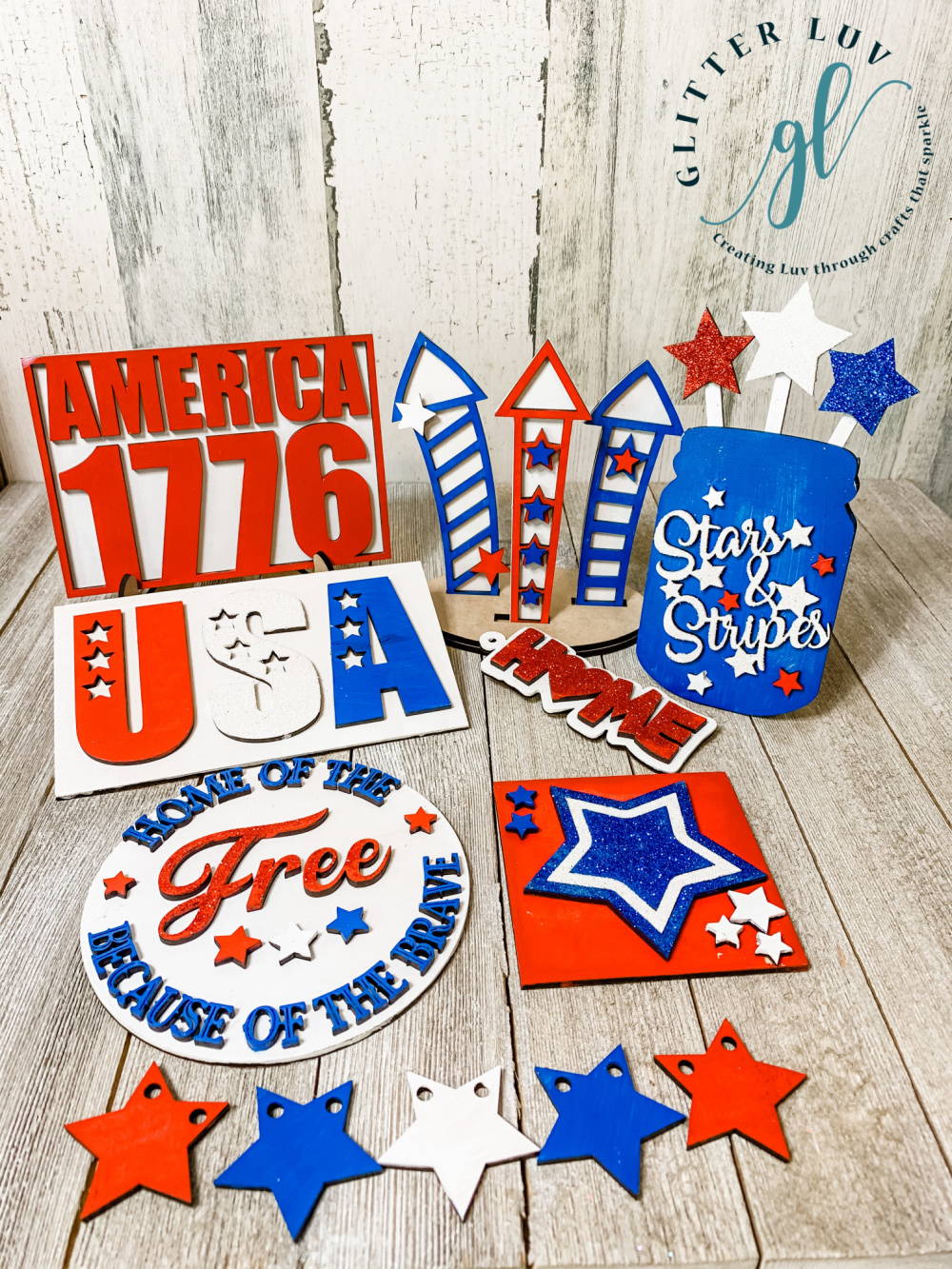 Look at how cute each of these pieces turned out! We love the classic look of red, white, and blue. We added glitter accents here and there and it really sets these pieces apart.
Mix and match the pieces from the kit and arrange them on your tray. Be sure to grab a piece of twine and make a cute mini banner with the stars. These are fun to hang from a higher tier to a lower tier.
If your tiered tray is small, come pieces could be set on a stand near the try to complete the look.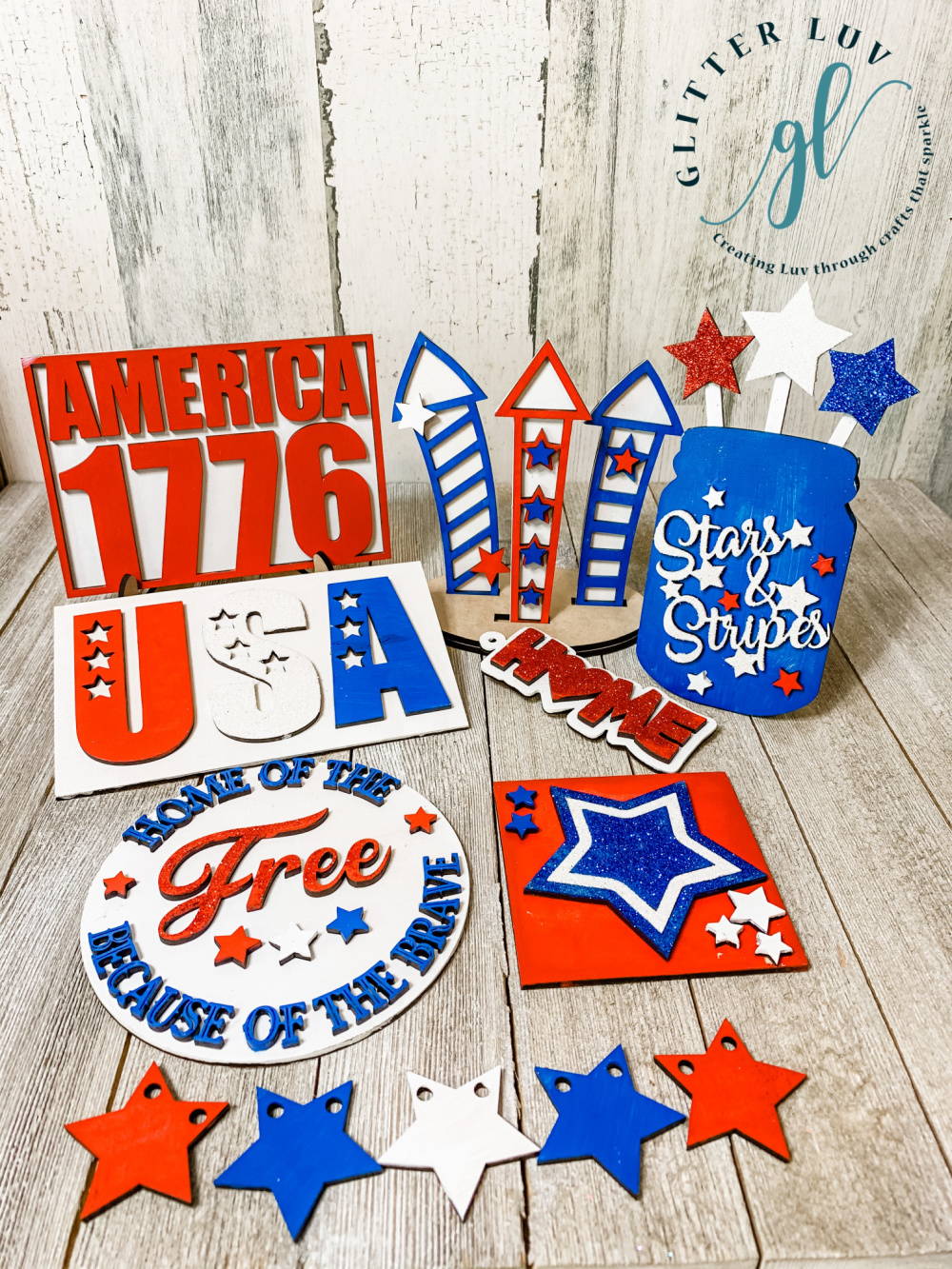 Now it's your turn! Share your creations with us in our Glitter Luv Creations Facebook group. For more great glittery ideas, follow along with us on Pinterest, where we share lots of great projects.